Kitchens & Baths
Specializing in Custom Kitchens & Baths Across Maryland and Beyond
Kitchen & Bathroom Remodeling Services
Certified Home Remodelers, Inc. is a kitchen and bath company serving clients throughout the state of Maryland, including the surrounding regions of Baltimore, Frederick, Gaithersburg and Westminster.
Upon the initial visit to your home, our kitchen designer specialist will assess your kitchen needs while focusing on your wants and desires for a more functional and appealing kitchen. After getting a complete understanding of your needs we will design your new kitchen using the latest 20/20 computer-generated design program that will demonstrate visual views from perspective, isometric, panoramic, and top elevations. All along allowing you to see what your kitchen might look like after the installation.
Custom kitchens and baths can increase home value and enhance life in your home. Certified Home Remodelers features a team of professional contractors who specialize in this area of home construction. When it comes to your kitchen, we can provide a complete renovation or focus on areas that require remodeling. We have years of experience constructing kitchens in a wide range of styles–from ultra modern to vintage-inspired.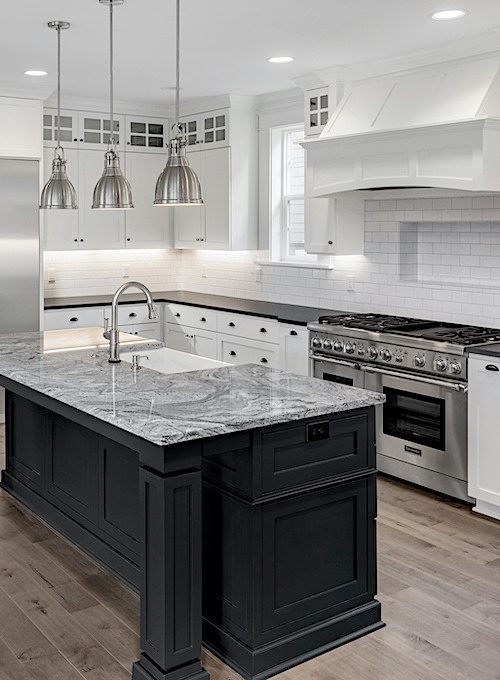 A World of Options
We offer major brands such as Schrock Cabinetry that features over 70 sophisticated door styles with over 55 illustrious finishes and 8 different construction grades to suit the needs of our clients.
If you are looking for a finely crafted product that looks like fine furniture with elegant features and superior quality, then please explore our Decora' Cabinetry collection, where the sky's the limit. This product line features 30 meticulously detailed door styles with over 85 rich translucent glazes and vivid decorator finish wood tones. Decora' Cabinetry is truly one of the finest crafted quality construction kitchen cabinetry in the industry today.
Bathroom Design
Amongst our services, we specialize in bathroom remodeling.
Our company is committed to providing exceptional work on our clients' homes, and we understand that a remodeling project can be a very personal undertaking; we respect the fact that our work affects our clients' living spaces and households, and we are careful to accomplish their goals as effectively as possible. From countertops to showers we work on every job with the same amount of attention to detail and dedication as if it were our own home.
Looking for a new master bathroom or powder room? We install tubs, showers, tile, flooring, new sinks, and more. When you contact Certified Home Remodelers for custom kitchens and baths, we can meet with you to plan your design. We are revered around Greater Baltimore for the outstanding quality of our workmanship. We are a licensed and certified company that specializes in world-class customer service. If you are looking for a kitchen and bath company we encourage you to contact us via our web form or give us a call at 410-871-9100. Our expertly trained team is ready to answer any questions you may have or to set up a consultation today.